The silence before the storm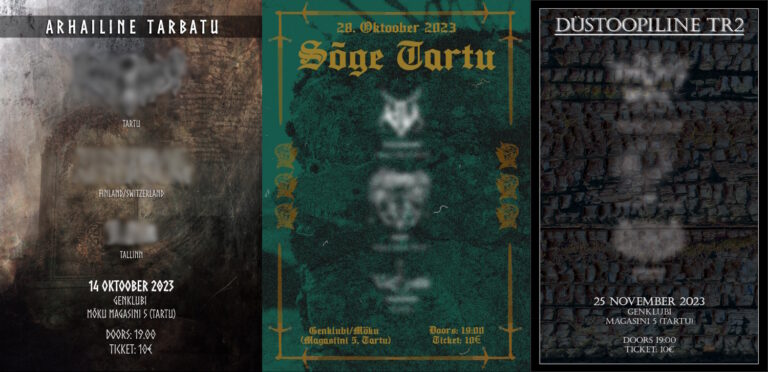 Background info
Do you know what's the worst for a music scene?
When it's not active, no concerts, no releases, and life is only filled with the monotony of everyday work.
Unlike Tallinn, Tartu is a small town of around 93.000 inhabitants and around 2,5h from the nearest airport. Which is situated, as you may have guessed, in Tallinn.
Therefore, we don't have that many opportunities to lure artists to our domicile because: a) who is willing to take such a detour and b) why would you go to Tartu if you can have a gig – but with more visitors and less expenses – in the capital?
Due to the aforementioned reasons, organizing gigs in Tartu is somewhat of a financial risk and those few people who organize it have also limited funds. You may remember Sander's iconic saying in the Tartu Under The Horns documentary:
"Making music in Tartu is like […] playing in front of the same drunk 20 dudes for as long as you make the band."
But if no gigs happen, there will be even less people interested in Metal music and therefore also fewer bands. This is also a shoutout to the 20 drunken dudes who have supported our shows – you rule!
So i decided, that instead of complaining, i could change the situation myself. Usually around 2-3 extreme Metal concerts take place per year, with more or less the same bands performing. Well, that part is difficult to change because we're chronically lacking bands. How can we make things more interesting?
(Only later I discovered that our friends from Sügis Productions have started to use Tartu as tour stop for some of the bands they are promoting. If they continue with their good job, I might organize even less because the whole point is to have more concerts, not compete with others about the visitors. Unfortunately, one of our concerts overlaps (on the 28th October) but since the styles are quite different, it maybe won't even make a difference. At least I hope so. )
The idea
Anyways, instead of having one concert, I thought it might be more interesting to have three concerts, each with an own theme. Why? Because I would like to bring a bit more love for detail to the scene, and having too many styles thrown into the mix just does not make a good evening, at least from the musical perspective.
The idea is simple – three bands, three music styles, three concerts. 
It was also important to me that none of the bands was chosen "just because we have to". Some bands I originally had in mind weren't able to perform, but that's okay because luckily we have more than 3 decent bands in Estonia (unlike many might believe).
I have put special attention to the opening bands, which are very interesting – each in their own way. Can highly recommend to come early and not miss them!
Location
It is the first time for me to organize concerts in Genialistide Klubi. Usually we use the "Rock&Roll" establishment but some of the bands and myself wanted to try out something different. Let's see how it goes and if we will continue organizing there or going back to the roots.
In any case, after the shows we will certainly meet up at the "Underground" bar, where you can tell me your thoughts about the location in person.
Naming of the concerts
After contemplating with my fellow Pergerus mates, we came up with three unique names for each concert. The names are also a hint to the style of music which can be expected on the respective evening.
But let's go a bit more into detail. The bands are concealed on purpose. Not because you couldn't anyways guess who they might be but because I wanted to put a focus on each band announcement, so they would get the attention on WHY we chose them. More of that below.
You may even spot posters with all band names in town before they are announced, so psssst…
is the first and maybe most aggressive of the three concerts. All bands are raw and energetic, such as in the good old times, therefore the name. If you are into powerful live appearances, this is the right gig to attend.
As opener it was important for me to pick a "fresh" band with potential and give them some exposure. Definitely worth checking out!


The band from Finland is for the first time in Tartu and we are very excited to host them! I happened to meet one of their members while they were performing with a bigger band and i am personally looking forward to seeing them live because of the musicians' energy!



 

The Headliner is a local band, which is rarely playing and therefore performing its only Estonian show in 2023. They have only been playing once in Tartu, 3 years ago. 
is an interesting combination of two Pagan Black Metal bands and one Neofolk band as the opening act. Why such an opener, you may think? Most Pagan Metal bands take inspiration from folk themes, so a Neofolk band is not that far off. Plus, I wanted to see them live. Another side-fact: Two out of the three bands are female-fronted.
The opener is a Neofolk band from Tartu who have been more active around 5-10 years ago and consist of two accoustic guitars and a singer.


There is no real Headliner here, so let's just say that one band is more known and active, presenting a song from their upcoming album!


The other band has been existing for a long time but dormant for at least 3 years. With a renewed lineup. I'm quite curious if they stay true to their style or have changed it. Last time I saw them their show was really great and I expect nothing less this time!
Although I shouldn't say this, this is the concert I'm looking most forward to. 
Two of my favourite Estonian Black Metal bands are performing on the same night, with a mysterious newcomer from Tartu starting the evening (having their first and only concert in 2023).
The opener is a (yet) unknown band from Tartu. Their style is difficult to describe because it contains many classical Black Metal components and yet is… different. Highly recommend attending the show and make up your own mind!


The second band from Tartu is difficult to describe without immediately giving away who they are. They are in my eyes one of the most interesting bands in the scene because they dare to go their own way.


About the Headliner for the evening, I was very lucky and happy to convince this band from Tallinn to come the long way over to Tartu. Their music certainly fits the mood at that time of the year and I'm very much looking forward to seeing them live again. They haven't been here for at least 5 years.